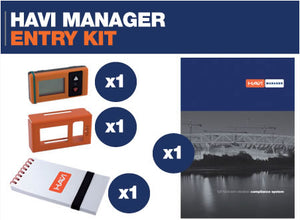 HAVi Manager Complete Entry Kit
HV-HM01-EK
£182.00

£182.00
---
UK Mainland Standard Royal Mail Delivery is £4.25 per order, conditions apply
UK Mainland Next Working day Signed for Delivery is £9.25 per order, conditions apply
---
HAVi Manager Entry Kit is a complete off the shelf solution when it comes to HAVS compliance that can be easily implemented in less than a day.
HAVi Manager is the simplest way to assist you to achieve compliance with the Control of Vibration at Work Regulations 2005 and the EU Physical Agents (Vibration) Directive 2002/44/EC. 
Everything you need to start taking control of HAVS in your company.
HAVi Manager Entry kit includes:
1 HAVi monitor
1 HAVi Monitor Heavy Duty Case Amber
1 HAVi log Book
1 Instruction Book
The HAVi manager consists of 3 key elements.
The System

 Risk Tool Kit (Assess exposure compared to legal values)
 Tool Inventory
 Risk Elimination documentation
 Risk Reduction and Control documentation
 Training Presentation
 The HAVi Manager documentation
 Posters

The Control

 HAVi Units
 Havi Casings
 Log books

The Audit

 Self audit procedure
 Third party audit procedure (optional)
Downloadable Documents:
Download the HAVi Technical Leaflet
Download the HAVi Total App Technical Leaflet
Download the HAVi Operating Instructions
---
We Also Recommend