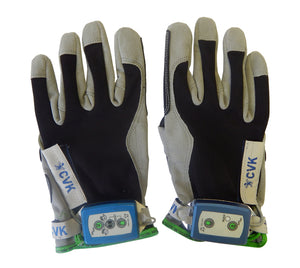 CVK Entry Level 2 HAV Dosemeter Measurement System
CVK1524-2
£3,345.00

£3,345.00
---
UK Mainland Standard Royal Mail Delivery is £4.25 per order, conditions apply
UK Mainland Next Working day Signed for Delivery is £9.25 per order, conditions apply
---
Please Note:  The CVK1524 has now superseded the CVK1515
CVK1524 - HAV100-3ch complete system (with indicator and active unit)
This CVK Hand-Arm Vibration measurement system allows real time accurate HAV measurements to be taken from equipment being used to conduct a standard work process.

The measurement sensors are fitted in both RH & LH specially adapted gloves so all multiple grip positions can be measured simultaniously, measurements can be made quickly and efficiently.

The CVK Hand-Arm Vibration measurement system can detect tool degradation along with personalised operator user technique and can be worn over extended periods of time and can easily be utilised to gather operator HAV exposure over complete shifts.

The CVK1524 also has the added benefit of being supplied with block mounts to enable the accelerometer to be ridgidly fixed to the equipment handle's should you wish to take standard measurements with the system.

The CVK1524 Entry Level 2 Hand HAV Measurement System comprises of HAV Active Accelerometer & data capture unit, HAV Passive accelerometer unit, 2 x specially adapted gloves, Vibview Light Software which allows you to download and view your measurements, download / charger cable, mains charging adaptor, rugged carry case, Quickstart Guide.
HealthVib HAV100 system measures and analyses HAV as required by ISO-5349 and EU-directive 2002/44/EG. Measuring by use of HealthVib HAV is easy to learn and carry out. The unit does not require cables or any special configurations. HealthVib HAV can be used in field conditions. HealthVib HAV100-3Ch s an instrument system for measuring hand arm vibrations on one hand in three directions, x,yx,z, calculated as vector sum according to the EU directive. This functionality reveals the vibration origin and thus makes it easier to choose the corrected preventive action.Vibration data is stored and analyzed during the measurement.
The HealthVib HAV100-3Ch connected to a Vibindicator™ HAV for simultaneous presentation of the actual and accumulated vibration exposure.
Download the CVK Specifications here
Please call 0116 2788289 before purchasing to confirm delivery date
---
We Also Recommend